HSS/HLR with multiple IMSI and country support
HSS/HLR, developed in Sweden by Leissner, is a central subscriber database that contains details of each subscriber that is authorized to use the mobile core network. It is multi tenant and supports multi country code.
Leissner HSS/HLR
HSS/HLR is an essential core component that a mobile operator or MVNO needs to provide mobile services over GSM, UMTS and LTE networks. Leissner has developed a cost-efficient, flexible and scalable MVNO/MVNE subscriber database solution using virtual server and Linux, and incorporated all the services of a powerful vHSS/vHLR (virtual) that a mobile virtual network operator needs.
HSS/HLR from Leissner includes advanced features such as multiple IMSI support. It provides your MVNE/MVNO setup with unique roaming services for every subscriber that will maximize your revenue and reduce operating costs (OPEX), while ensuring quality of customer experience. Redundancy for high reliability is always included.
HSS/HLR is part of a complete suite of mobile core components in Leissner MVNE/MVNO Mobile Core. This suite of flexible functionality empowers MVNO and MVNE to stay ahead of competition and gives low Total Cost of Ownership (TCO).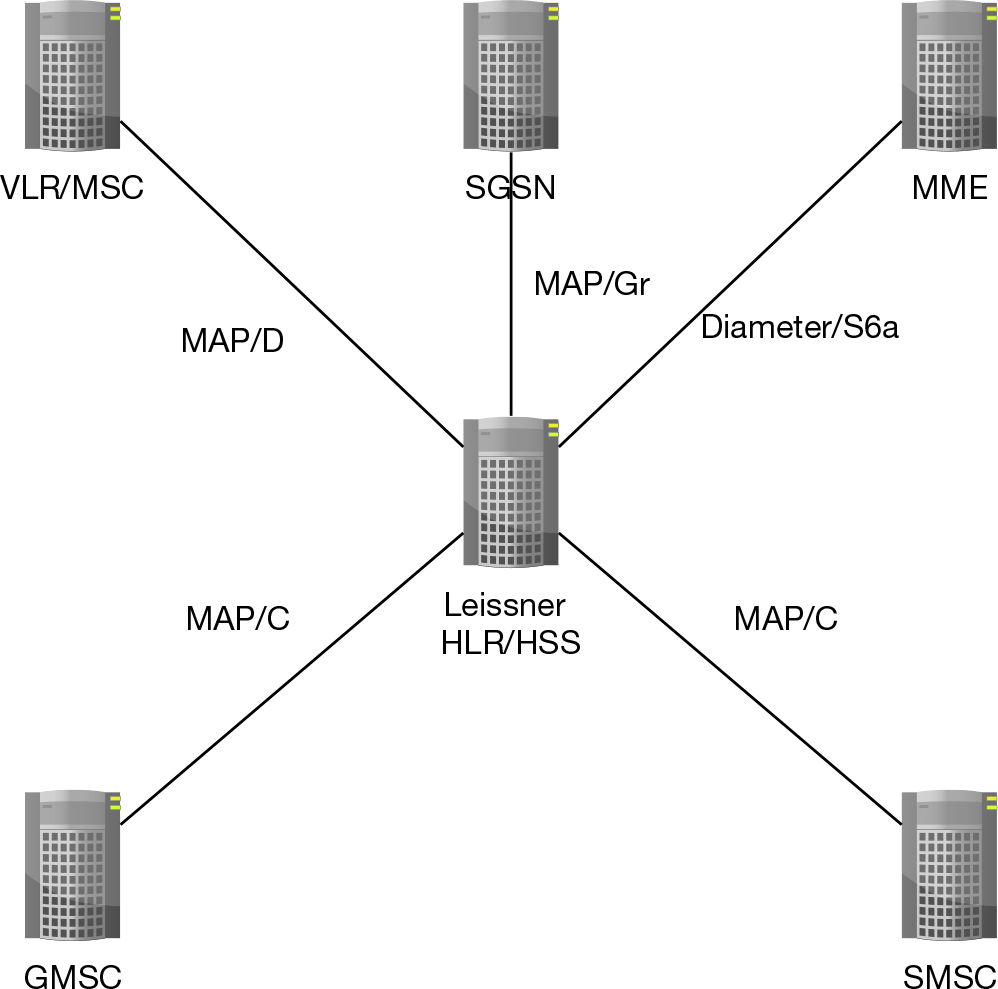 Steering of Roaming
Roaming policies can be set to use predefined, cost-efficient roaming networks.
Call Routing and SMS
Supports MT calls and SMS.
Multi Technologies
Leissner HSS/HLR supports different network technologies such as GSM, UMTS and LTE networks.
Reliable and Scalable
Leissner HSS/HLR use virtual servers, and the system is always delivered with a redundant pair for highest possible reliability. The system is built to be able to scale from thousands to millions of subscribers in this redundant pair. The HSS/HLR supports both single and multi IMSI subscriptions.
Management
Leissner HSS/HLR uses Linux as operating system. Leissner HSS/HLR has an API that can easily be connected to operators and therefore makes it easy to configure and manage from existing provisioning systems, i.e. removal of individuals or user groups and restriction policies for specific destinations or groups.
Multi IMSI Support
Leissner HSS/HLR supports multiple IMSI for every subscriber to provide unique roaming services.
Multi IMSI Key Benefits:
Wide range of supported roaming services
Scalable according to network growth
Flexible system configuration
Proven reliability
Supports all range of services – Voice, SMS and Data
The Leissner HSS/HLR solution is designed to handle:
CAMEL voice services
Several service providers can use one Leissner HSS/HLR installation
Features
HSS
HLR
Services
Authentication
●
●
CAMEL
●
Operator Determined Barring
●
USSD
●
Supplementary Services
●
Speech transmission services
●
SMS
●
Call forwarding
●
Barring
●
Technologies
GSM
●
GPRS
●
UMTS
●
HSPA
●
Evolved HSPA (HSPA+)
●
LTE
●
LTE Advanced
●
Signaling & Protocols
SS7
●
SIGTRAN
●
GSM MAP
●
Diameter
●
Interfaces
C, D, Gr
●
●
S6a
●
Security
AUC
●
●
Milenage
●
●
Operations
SOAP API
●
●
CLI
●
●
Architecture
VMware
●
●
Dedicated Intel based server
○
○
Operating System
Debian
●
●
● = Standard function, included
○ = Optional function