SMSC for messaging services with carrier grade quality
SMSC, developed in Sweden by Leissner, allows operators to produce messaging services, along with the capacity to scale to different needs.
SMSC is a high-performance and flexible product that fulfills all messaging needs with reliable carrier grade quality. Leissner SMSC offers high capacity traffic with hundreds of transactions per second. The flexible design enables low initial investment and pay as you grow possibilities.
SMSC is a part of a complete suite of mobile core components in Leissner MVNE/MVNO Mobile Core and has functionality tailored for both the P2P and A2P market.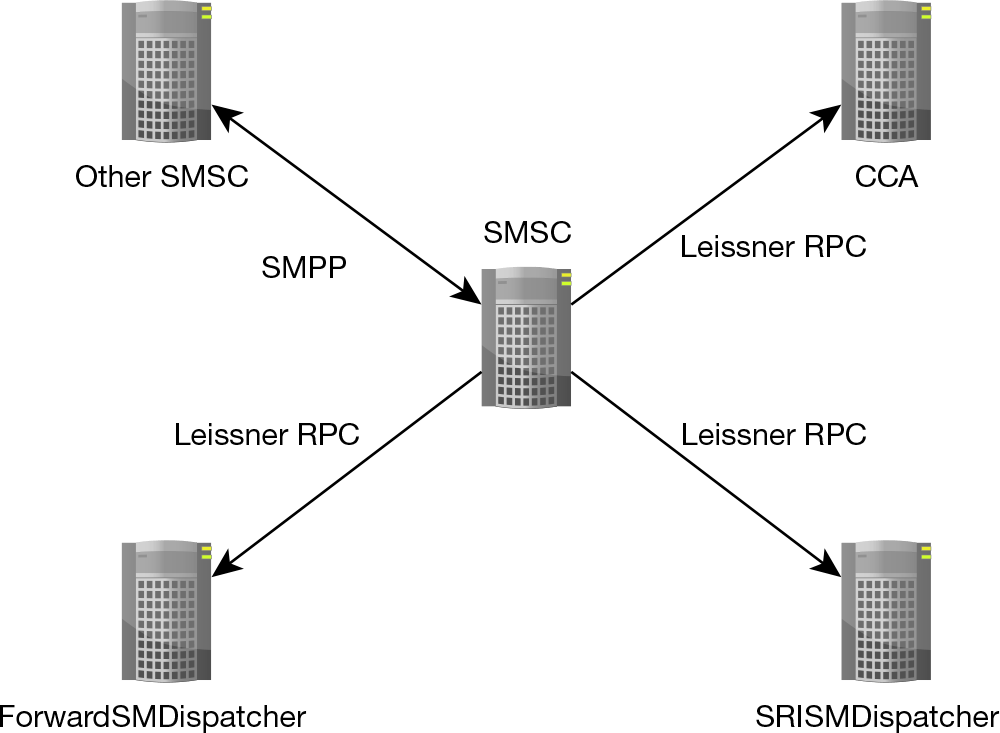 SMS Distribution List (SMS-Gateway)
Email-SMS converter (SMS-Gateway)
SMPP interface allows operator to sell services to external organizations that require SMS messaging
SMS mobile-to-mobile, Web-to-mobile, mobile-to-E-mail and E-mail-to-mobile capabilities (SMS-Gateway)
Retry schedules
Wide range of supported network standards
High-performance, scalability and broad functionality
Flexible queue size control with overflow protection
Scalable according to network growth
Generates CDRs
Leissner SMSC technical specification
Can be deployed on most GNU/Linux distributions. Debian is preferred.
Can be installed on a virtual server.
Supports the SS7 interfaces MAPv1, MAPv2 and MAPv3 for MO- and MT-SMS
Supports the IP interface SMPP v3.4
A rate limit (SMS per second) can be configured for each SMPP connection.
Different global titles can be used when sending MT-SMS.
SMS Home Routing support.
MT-SMS can be routed either via SS7 or SMPP.
Different retry schedules can be configured when delivering MT-SMS depending on MAP error cause.
Can be used together with Leissner HLR to receive MT-SMS.
Incoming MT-SMS can be routed to IP or trigger a script handling the message.
Two CDRs are created for every SMS. One when the SMS is received and one when the SMS is delivered.
Prepaid is supported together with Leissner Online Charging System.
Functional group
Function
Services
Mobile Originated and Mobile Terminated SMS
Outgoing MT-SMS can be routed via SS7 or SMPP
Incoming MT-SMS can be routed to IP or trigger scripted functions
Support for prepaid customers (requires Plextone Cost Control Application Server)
CDR generation on receiving and delivery of SMS
Signaling & Protocols
SS7 interfaces MAPv1, MAPv2 and MAPv3
SMPP v3.4
Can use multiple global titles when sending MT-SMS
Flexible retry schedules to provide optimum message delivery
Security
Validation of mobile user subscription and account balance
SMPP username/password authentication
SMPP rate limiting for each connection
Operating System
Linux
Capacity
100+ SMS per second
100 000+ users